Featuring some of the most spectacular ocean views in California, as well as beautiful weather year-round, Monterey Bay is an idyllic coastal region to call home. Whether you're a golfer, an outdoor enthusiast, a culinary aficionado, or an art collector, Monterey Bay is lined with luxurious communities from Pebble Beach to Santa Cruz.
If you're interested in Monterey Bay real estate, it's important to explore which community is best for you and your family. Below is a snapshot of Monterey Bay communities and what makes each one unique.
Carmel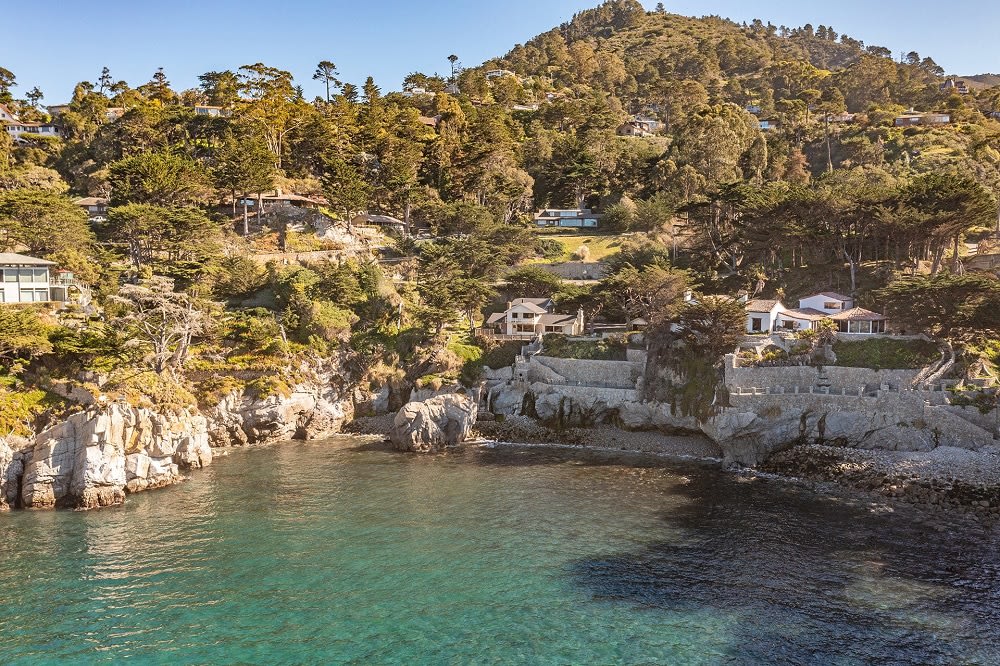 The picturesque town of Carmel is known for specialized shops, fairytale cottages, and a quaint, luxurious atmosphere overall. This design is intentional, and part of strict local ordinances. Carmel curates new construction and changes to existing buildings so that as a whole, Carmel's home design is carefully vetted and meant to enhance the community.
Carmel has a small-town feel, yet there are ample activities to enjoy as a resident. A strong local community of artists feature their work in galleries downtown. Many restaurants, bars, and coffee shops cater to tourists and locals, alike. Carmel also boasts access to an extensive network of parks, and Carmel Beach offers excellent surfing and sunbathing. If you prefer to admire the ocean from afar, take a stroll on the bluff path. Other activities in the area include scuba diving at Carmel River State Beach or visiting the whaling museum and Point Lobos State Reserve.
Carmel is the number one destination in Monterey County in which to live and one of the best places to retire in America. It's also considered the most family-oriented community in Monterey County. If you're purchasing Carmel real estate with school-aged children in your household, you can rest assured that your children will receive the best education available in the state.
Pebble Beach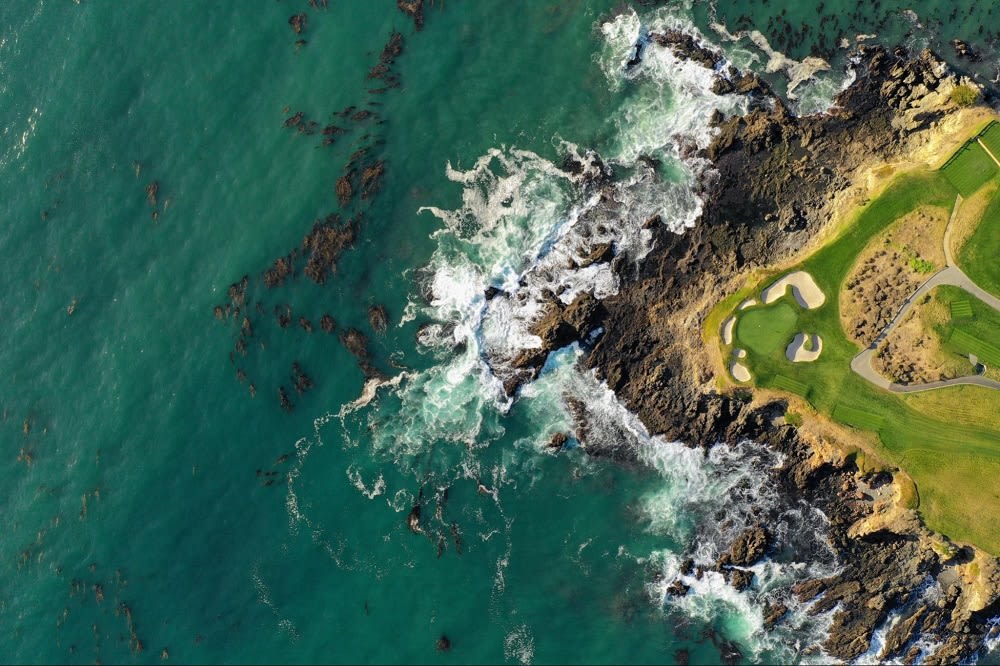 Pebble Beach is world-renowned for its beautiful and challenging golf courses. In fact, it's been a host of the PGA Tour since 1947.
Pebble Beach Golf Links
is the number one public golf course in the US. The residences of Pebble Beach are carefully protected within an exclusive gated community, allowing residents to enjoy their pristine ocean views in peace.
Typically, Pebble Beach homes for sale are luxurious cliffside mansions. However, there's more real estate tucked away off the scenic route. Pebble Beach is home to entrepreneurs and Hollywood celebrities alike. The entire community is a part of the Pebble Beach Corporation and is divided into five distinct subdivisions.
In addition to its golf acclaim, Pebble Beach is the starting point of a famous 17-mile scenic coastal drive, one of the most dramatic and beautiful coastal drives in the world. The drive winds through the Del Monte Forest.
Del Monte Forest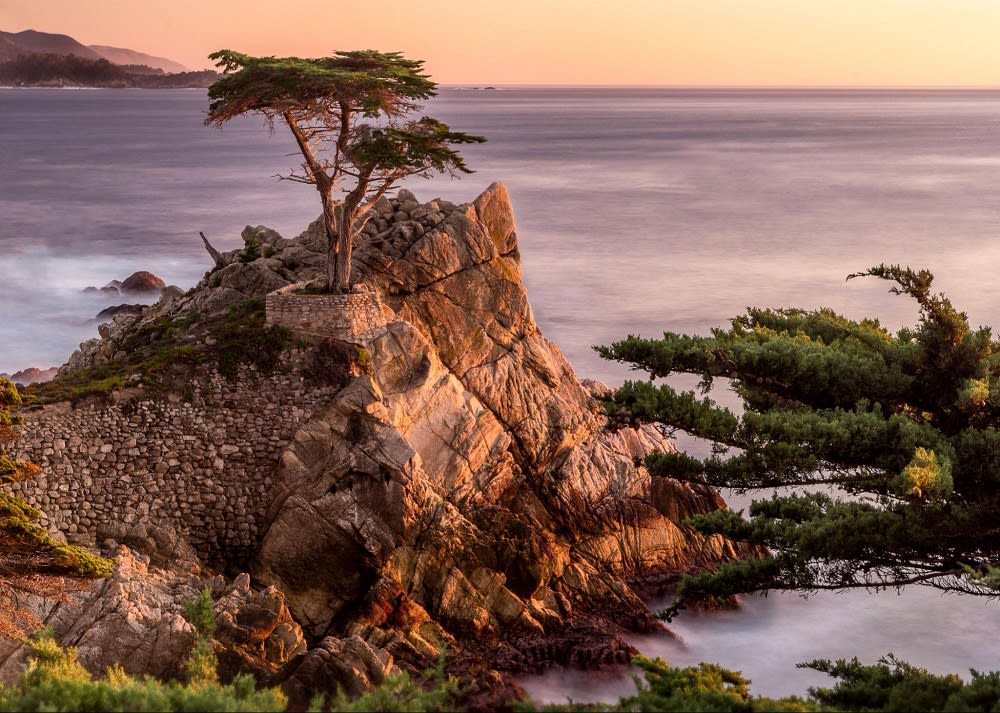 Del Monte Forest is considered the best place to retire in California and one of the best places to live in Monterey County. Del Monte's small population is spread throughout a vast amount of land—meaning the community is quite rural. Because of the prime coastal real estate, Del Monte Forest's cost of living is very high.
Thanks to the work of the Del Monte Forest Conservancy, the beautiful old-growth Cypress Forest is well-preserved, maintained, and managed to ensure generations of enjoyment. A system of nature trails allows for hiking and biking to explore all that the Del Monte Forest has to offer.
Pacific Grove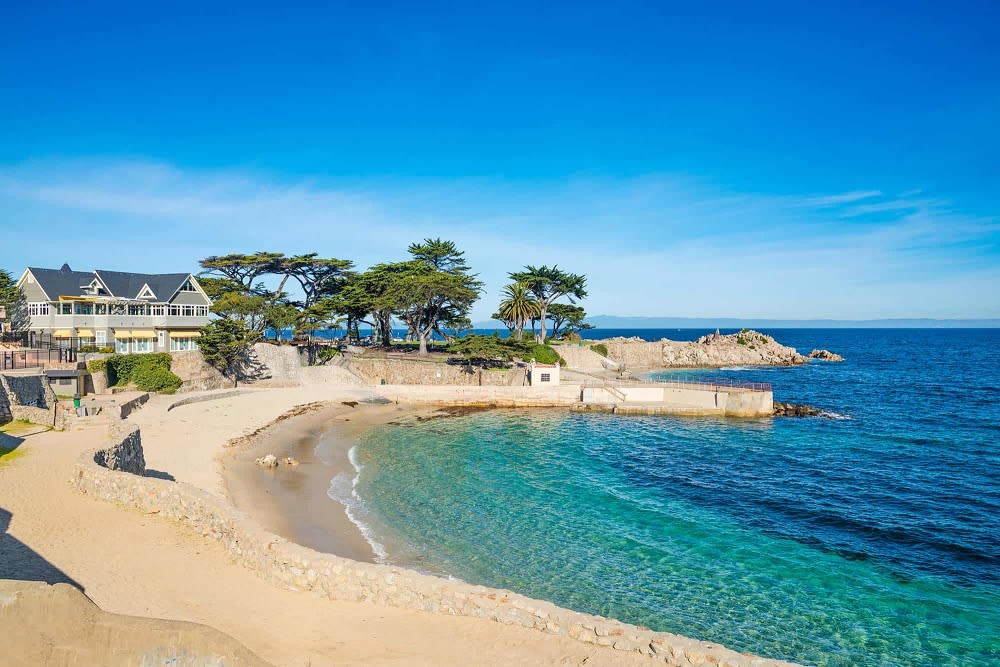 Pacific Grove has a slightly different feel from the other communities on the peninsula. The larger population of 15,000 gives the community more of a busy suburban feel. It's slightly more common for people to rent their homes than own Pacific Grove real estate. This town, like other nearby communities, is popular for retirees while still offering a more balanced age demographic. Pacific Grove is considered a fantastic community in which to raise a family.
Many pieces of Pacific Grove real estate preserve the heritage of the Victorian era and craftsman architecture—with homes varying in both size and amenities.
Pacific Grove offers attractions that bring many tourists to the town—including the iconic Monterey Bay Aquarium. Additionally, the Historic Point Pinos Lighthouse guides ships past the tip of the peninsula and is a popular tourist attraction. Pacific Grove has lovingly earned the nickname Butterfly Town, USA, because of the millions of Monarch butterflies that migrate to this area each winter.
Monterey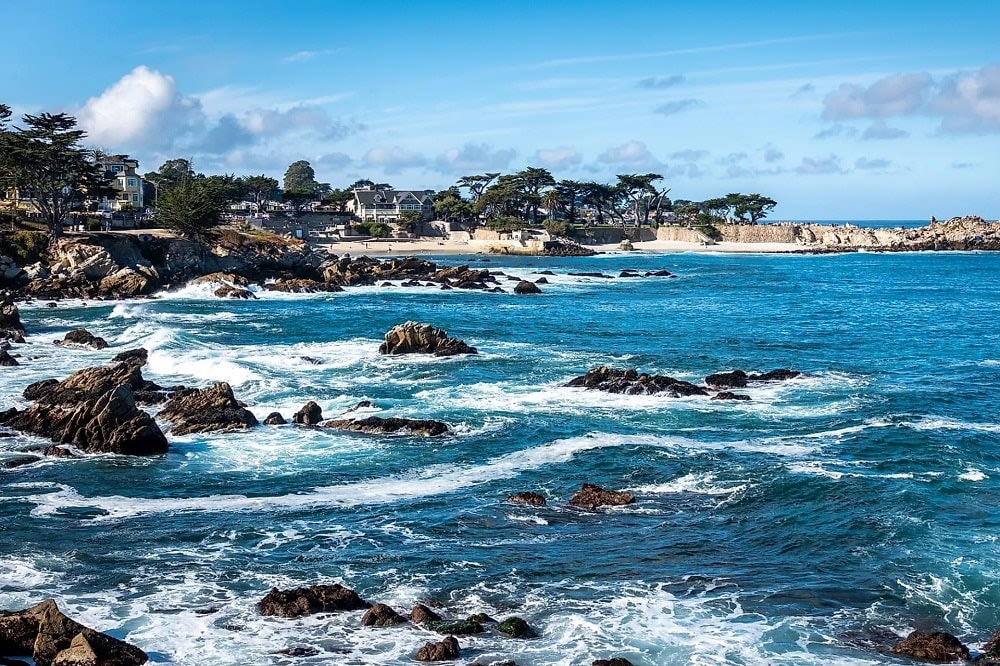 The town of Monterey has earned a place in early California history. Long after its first settlement by Spanish missionaries, the state constitutional convention was held at
Colton Hall
. Monterey went on to become an industrialized center of canned fishing in the late 1800s, and Cannery Row, as immortalized by John Steinbeck, exists to this day. Monterey still retains some other vestiges of its varied history, including adobe buildings that were part of its early colonization.
The town of Monterey offers a host of outdoor activities to take advantage of the beautiful weather and scenery, including extensive trails for biking, hiking, and jogging. The beaches are pristine, and among the most scenic in California. And while the water is a bit rough for novice swimmers, sunbathing, beach combing, and picnicking offer fun for all. Whale watching is a popular activity for locals as well as tourists. Be on the lookout for whales anytime you're near the ocean.
Searching for Monterey Bay homes for sale?
If you're interested in Monterey Bay real estate,
reach out to Lucie Campos
. Not only has Lucie earned the incredible distinction of being the top Coldwell Banker female realtor for 18 consecutive years, but as a life-long resident of Monterey Bay, she knows the community better than any other Monterey Bay real estate agent. If you're ready to see the best luxury listings near Monterey Bay,
contact Lucie and her team today
!